Athough the date on the next coins is 2010, these commemorative coins of Turkey were emitted in January 2011.
It's the second set of coins with endangered or extinguised species of Turkey.
Front side of the commemorative coin
Ankara Cat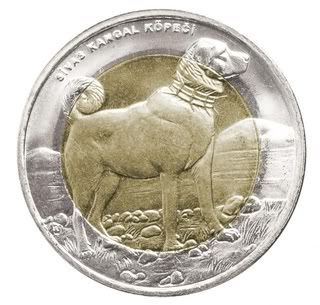 Sivas Kangal Dog
Face Value: 1 Türkish Lira
Metal: CuprıNickel
Diameter: 26,15 mm
Weight: 8,3 gr
Bimetallic with plain edge
Max. Issue: 11.000 in Turkey, 4.000 to export
Design: Nalan Yerlibucak
Released : 03.01.2011 (till 03.01.2013)
The first coin (Ankara cat) is better know as the Turkish Angora Cat.
The name 'angora' comes from the Ankara region, historically known as Angora.
Turkish Angora cats are extremely active, intelligent, and involved.
The eyes may be blue, green, or amber, or even odd-eyed (one blue and one amber or green).
green eyes - blue eyes ...
... or one of each ?
The second coin depices the Sivas Shepard Dog that has its origine in the Kangal district in the Sivas province in Turkey.
This dog is not really a herding dog, but as a flock guardian that lives with the flock to actively fend off wolves.
Turkish Kangal Dog
to be continued...