Turkey has a great tradition of emitting high quality commemorative coins.
Since 2009, 2 coins depicting endangered animals are issued in limited numbers.
The 2 coins of 2009 are not yet in my possession, and they might be very hard to get, as only 5000 copies were made of these commemorative 1 lira coins.
Nevertheless, I'm adding them to this post, as I want to be complete.
front 1 Turkish Lira 2009 (emitted in Jan. 2010)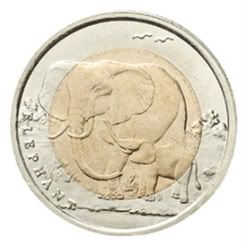 Elephant - 2009
Turtle - 2009
Face Value: 1 Türk Lirasi (Turkish Lira)
Metal: CuproNicke
Diameter: 26,15 mm
Weight: 8,3 gr
Bimetallic with plain edge
Max. Issue: 5.000
Design: Nalan Yerlibucak
Released : 04.01.2010 (till 04.01.2012)
On the coin with the elephant, we see a mother elephant with her calf.
Elephants can only be found in zoos in Turkey.
The largest population is int the Izmir Wildlife Park (Izmir)
The second coin, depicting the Caretta Caretta (the Loggerhead Sea Turtle).
It's an oceanic turtle that lives also in the Meditteranean Sea.
One of the last breeding areas in Europe, is located in Daylan (Turkey).
Daylan is known by tourists for the national park that is taking care of the breeding areas of the Caretta-turtles. Between May and August, the beaches are closed for tourists, so that the turtles can take care of their nests and young offspring.
Yearly, about 250 new nests are made. But it's a risky adventure.
The numberous tourists are a threaten to the wildlife. Turtles that smell the suncream of the tourists, leave the area and refuse to lay their eggs. Not to mention the presence of the tourists selves.
Once the eggs are layed, the sun takes care of them and after 30 days, the young baby turtles go to the sea.
After 4 years, they are old enough to cross the Altlantic.
Nest protection made by researchers
baby turtles, out of their eggs
fully grown Loggerhead sea turtle (Caretta Caretta)
If all goes well, the Loggerhead Sea Turtle has a lifespan of 47 to 67 years.

to be continued ...